This article,Arashi Kishi Swordsman/Boruto, is property of KrakenKing

Boruto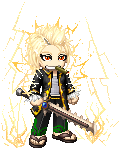 Age: Human Years 252
Norkcha years 36
Gender: ♂
Species:
Norkcha
Blood type: O Negative
Birthdate: 1/16
Height: 6.8
Weight: 154
Island of Origin: Ooqin
Occupation: Captain Swordsman
Epithet:
Crew: Shiai Pirates
Position: Captain
Family: 2 brothers 2 parents
Current Bounty:

420,000,000
Bounty History
1st Bounty:

18,000,000
Reason: 'k'illed 4 dozen marine squads
Dream: Of facing the worlds greatest warriors in combat.
Page created by: KrakenKing
Introduction
Edit
Boruto isn't a pirate but really a swordsman who wields the great sword that cut the Giant Shock Eel Serpent
Personality
Edit
Boruto is very calm but he can become childish sometimes when scared or shocked. Boruto usually smokes but he sounds like hes in his 20's
Abilities and Powers
Edit
Swordmanship
Edit
Boruto Uses an electric sword to preform Denkitoryu. He also has many other undiscovered fighting abilities.
Physical Strength
Edit
Boruto can carry a 7 metric ton battleship on his back barely.
Borutos speed is average
Endurance
Edit
Boruto is unkillable He announces whn ever his is stabbed, or shot, he announces "The Shock Of Death Brings Me Back To Life".
Soil is the name of Boruto's Sword it stands for Sword. Of. Incredible. Lightning. With This sword Boruto can preform . An incredile fighting style using solar energy to charge.
Relationships
Edit
Boruto is the Captain of the Shiai Pirate
Boruto has 2 younger brothers and was raised by 2 parents.
Allies/ Friends
Edit
Boruto has a rival that he shook on fighting him someday
Ad blocker interference detected!
Wikia is a free-to-use site that makes money from advertising. We have a modified experience for viewers using ad blockers

Wikia is not accessible if you've made further modifications. Remove the custom ad blocker rule(s) and the page will load as expected.