Bomb Voyage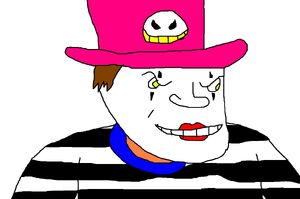 Age: Unknown
Gender: Male ♂
Species: Human
Blood Type: Unknown
Birth Date: Unknown
Height: Unspecified
Weight: Unspecified
Island of Origin:
Occupation: Pirate
Epithets: Master of Explosives, Master of Pantomime
Crew: Clown Pirates
Position: Mate First Mate
Family: Unknown
Bounty History
Current Bounty:

43,000,000
Dream: Unspecified
His Life/HistoryEdit
His past is unknown, but when Gol D. Roger died he entered in the Clown Pirates as First Mate. His bounty is

43,000,000. He entered into the gang of Captain J because he wanted to have his revenge on Bellamy and his pirates. He wanted revenge because they destroyed his village where he lived with his family.
EquipmentEdit
He doesn't have any powers of Devil Fruits, he usually uses explosives and clown tricks to attack his enemies and he has two pistols and a gun with him.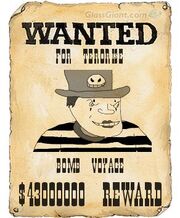 Ad blocker interference detected!
Wikia is a free-to-use site that makes money from advertising. We have a modified experience for viewers using ad blockers

Wikia is not accessible if you've made further modifications. Remove the custom ad blocker rule(s) and the page will load as expected.