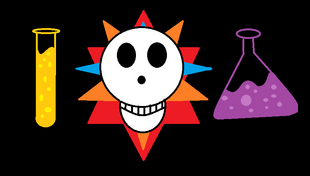 The Crook Pirates is a pirate crew originating from Crooked Island located in the Grand Line and captained by B. T. Wellington. The crew is mostly composed of former members of the Crooked Republic of Scholars.
Crewmembers
Edit
Name
Profession
Capabilities
Epithet
B. T. Wellington

Extremely Intelligent
Master Stratagist
Master Chemist

Gil

Master Swordsman
Excellent Soldier

Clarence

Extremely Agile
Master Engineer

Johann

Expert Swordsman
Master Musician

Sylvia

Marksman
Master Mathematician
Their ship is known as the Salientia. It is a Galleon with a frog as the figurehead.
Ad blocker interference detected!
Wikia is a free-to-use site that makes money from advertising. We have a modified experience for viewers using ad blockers

Wikia is not accessible if you've made further modifications. Remove the custom ad blocker rule(s) and the page will load as expected.