Age: 14(Pre-Time skip)
16 (Post-Time skip)
Gender: ♂
Species: Human
Blood type: unknown
Birthdate: August 17th
Height: 6ft 4 in
Weight: 10stone 4 pound
Island of Origin: Bountman island
Occupation: Pirate
Epithet: Golden Fist.
Crew: The Red Falcon Pirates
Position: Cook
Family: Grandfather(deceased) Reggie Bark(cousin)
Current Bounty:

60,000,000
Bounty History
1st Bounty:

Reason:
Dream: To feed the pirate king.
Page created by: Red falcon Randy
Johnny was born on barmount island. He used to live with his grandfather but after he passed away he joined the falcons.
Appearance
Edit
He has dark blue hair. He has the same oufit in his closet and never bought any other clothes.(Besides coats).
Personality
Edit
He is a very hyper, though he can be serious and calm when he needs to be.
Abilities and Powers
Edit
Swordmanship
Edit
He is a beginner swordsman. Even though he is is still very good with a sword.
Marksmanship
Edit
Hand to Hand Combat
Edit
He is sklled in hand to hand.
Physical Strength
Edit
How fast they can walk, how high they can jump, good at dodging, flexibility?
Endurance
Edit
How much damage and pain your character can endure
G
Relationships
Edit
Allies/ Friends
Edit
Johhny Bark and his cousin, Reggie Bark, used to live with their grandfather when they were10. But he became very ill and passed away. The two were forced to live on the streets. 3 years later Sara Goldmine and Randy Mihawk found them and took them into their crew. As a gift of gradatude they give Randy and Sara The Falcon!
Character Design
Edit
So how did you come up with your character? Inspiration? Creativity? How did you develop even further?
Major Battles
Edit
Who your character fought against
Ex.
Character vs that guy (Won, Lost, Interuppted, Escaped, Killed)
Your character's phases (funny, inspirational, serious, etc)
Related Articles
Edit
Links from this wiki that are related to this page
External Links
Edit
Links that are
NOT
f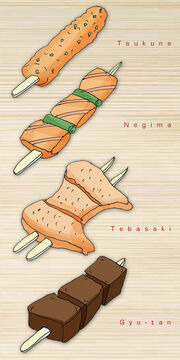 rom this wiki that are related to this page
Ad blocker interference detected!
Wikia is a free-to-use site that makes money from advertising. We have a modified experience for viewers using ad blockers

Wikia is not accessible if you've made further modifications. Remove the custom ad blocker rule(s) and the page will load as expected.