Keiro e Eden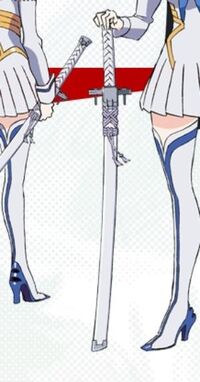 Statistics
Japanese Name: 径路へエデン
Romanized Name: Keiro e Eden
English Name: Path to Eden
Literal Meaning: Path; Eden
Price: Unknown
Owner(s): Garde
Weapon type: Zoan enhanced katana
Keiro e Eden (径路へエデン Keiro e Eden, literally Path to Eden,) sometimes called Eden for short, is a katana owned by Marine Captain, Garde. Unlike most swords however, Keiro e Eden stands out for having been fed a Zoan class Devil Fruit. In this case, Keiro e Eden has eaten the Snake Snake Fruit, Model: Spitting Cobra, making it a snake-sword; a weapon which Garde makes deadly use of.
Appearance
Edit
Come on! Tell us what it looks like! Does it look Sinister? Cool Pirate design? Shiny? It's too bright!!! Any decoration? Is it on fire? HOT!
Abilities and Powers
Edit
Keiro e Eden, at first glance, is a standard katana. As such, when in the capable hands of its wielder, Garde, it is sharp and strong enough to cut and hack through trees, concrete and even people. However, the sword isn't powerful due to relying on its decent craftsmanship alone. Keiro e Eden was fed a Zoan class Devil Fruit, known as the Snake Snake Fruit, Model: Spitting Cobra. With this power, the sword can shift between its katana form and that of a snake. Additionally, it has been given sentient thought and feelings, as well as free will to do as it pleases.
Despite its independence, Keiro e Eden, or Eden, as it's affectionately called by Garde, has been tamed by her. This has caused Eden to become closely attached to its owner, making it less a weapon and more of a loyal pet and partner. Eden is powerfully loyal to Garde, and almost always obeys whatever command it is given; whether those commands are spoken or told through the slightest of gestures. Eden also seems to dislike being away from Garde for too long, unless ordered to do so. On top of all this, Eden seems nearly impossible to be wielded by anyone other than Garde. If it senses anyone else's hands upon it, Eden will lash out and attack the offender before returning to Garde's side.
As a living weapon, Eden has been shown to also possess other helpful qualities. One of which includes being a spy under the guise of an abandoned sword or a wild snake. Upon receiving valuable information, Eden can travel back to Garde and try and relay what it has witnessed. Albeit this ability is limited, as even Garde acknowledges she can't always fully decipher what Eden is trying to say.
When it comes to combat however, that's when Eden's transformations are at their most valuable. A common tactic Garde makes use of is Eden's hybrid form; where upon Eden becomes a snake from the hand guard to the tip of its blade. While it seems less useful than a normal katana blade, Eden can surprise unwary opponents with its tongue, which still retains the metallic end of its original sword form. In this state, Eden is an amazingly long sword, far longer than typical katana; giving its slashes a greater reach from afar while still retaining its usual weight for one handed strikes. Plus, it is given far greater mobility and flexibility in this form; allowing it to not only traverse long distances from Garde's side, but to give it multiple angles from which it can stab and slice its opponent. It can even wrap itself around foes to immobilize them before delivering a fatal strike with its tongue.
In Garde's hands, this tactic can prove to be very effective and dangerous to lesser enemies. With graceful hand gestures, Garde can turn her sword into a bladed whip and use it accordingly. With these same arm, wrist and hand gestures, Garde can make the slightest movement to command Eden to execute a complex action. In appearance, this maneuver can look more like Garde is twirling a ribbon in mid-air than lashing at her opponents with a Zoan enhanced katana.
A key feature Garde also has Eden make use of is its venom. As a spitting cobra, Eden possesses highly deadly natural venom which it can inject into its victims through a single bite. This venom can travel throughout the opponent's blood stream and systematically shut down vital organs, causing death. As the venom is naturally produced in hybrid and snake form, Eden can coat its bladed tongue in venom to poison and seriously injure enemies at the same time. This in turn makes Garde a highly dangerous and deadly swordsman in her own right, due to wielding such a weapon. To add onto this, Eden, much like any spitting cobra, has the innate ability to spit venom from its mouth. While the venom isn't dangerous if it makes contact with skin, it can still be worrisome if it enters open wounds. Additionally, if it enters an opponent's eyes, it can cause blindness.
One final trick Garde makes good use out of is Eden's ability to recede its elongated torso in snake-sword form in preparation for a high-speed, heavy thrust. This powerful tackle and stab from Eden's tongue has been shown to be capable of demolishing even stone itself. It's considered to be Garde's most powerful thrust attack.
So........how, what or who made it? How did it come in into your character's possession? Used for good or evil?
Keiro e Eden received its name as a reference towards the Garden of Eden, from the biblical Book of Genesis. On one hand, it can refer to the snake (assumed to have been the Devil) who had tempted Eve to eat the fruit from the Tree of Knowledge, as Keiro e Eden can transform into a snake at will. On the other hand, it may also be a straight up reference to Eden itself. Eden has become synonymous with paradise in modern times; a land with no pain, suffering or hardship. As a Marine who's job it is to uphold justice and punish criminals, it could be said that Garde brings the world closer to Eden with her very sword.

Likewise, Keiro e Eden's name takes on an ironic twist when one considers that Garde was trained under Aanya, a Vice Admiral known commonly as "Seraph," and who seems to have an angelic motif surrounding her. Despite this, Keiro e Eden carries a malevolent, devilish undertone due to the serpent of the Garden of Eden.
External Links
Edit
Garden of Eden - Wikipedia article about the Garden of Eden, which Keiro e Eden's name refers to
One Dream
Protagonists:
Jolly D. Chris  • Spike  • Timber  • Rose Glory  • Wyatt  • Dracule Sakura  • X Aphro  • Hanuman  • Chiyome Lys  • Drazil  • Mut Mizu  • Blade D. Kris  • Caleb Necros  • Artemis D. Falko  • Titan Bach  • Euthemia  • Sarutobi  • Ika  • Tako  • Anne  • Mira  • Tora  • Paul Kia  • Dieu-le-Veut Veronica  • Roxanne  • Shiro Lucy  • Flambe  • Jean Reis  • Fox D. Abigail  • Bellona  • Peabody Rune  • Peabody Karen  • Shinku  • Forge Mary
Antagonists:
Majestic T. Decaden  • Rex Kong  • Tombstone Grim  • Pan  • Mimikko  • Honeydew  • Gray  • Red  • Yukon  • Labrador  • Garde  • Chance  • Benzaiten  • Haidar  • Sharp Francis  • Benedict Lo  • Manson  • Set  • Isaac Giovanni  • Mayonaka  • Choko  • Ignis D. Shizen  • Mosaic Falle  • Medusa  • Nos Bram  • Nephthys  • Damon  • Gozu  • Mezu  • Poe  • Shellman  • Yeren  • Yomi  • Iyaga  • Malley  • Fall  • Winter  • Spring  • Summer  • M  • Hagith  • Livi  • Ava  • Palatine Shuck  • Jorogumo  • Charon  • Pyrite Liger  • Rum  • Vega  • Junketsu
Supporting Characters:
Jolly D. Gogh  • Just D. Nebula  • Just D. Lisa  • Urufu  • Meso  • Maya  • Boris  • Pearl  • Rose Venus  • Shin  • Phoenix Virgil  • Masa Mune  • Yahiro  • Salma Koken  • Skookum  • Solomon Scarab  • Solomon Dune  • Baal Kokkina  • Sabaku Koken  • Laka  • Regina Marble  • Regina Palette  • Shinju  • Jolly D. Mona  • Postardon  • Vulcan  • Gilgamesh Prime  • Samson  • Zelda Beryl  • Robbie  • Ally Saurus
Cameos:
Rogue Strauss  • Renegade Pirates  • Galley-La Company  • Genesis Everglade  • Tidus  • Ice Blade  • The Skyline Pirates  • Devil Spawn Pirates  • The Technicolour Pirates  • The Red Falcon Pirates  • Luther Samson  • Starfire  • Lawrence  • The Marimo Pirates  • Shanks  • Red Hair Pirates  • Kureha  • Drake Lockheart  • Guddo Rakku  • Kouko  • Supreme Pirates  • Harlequin Pirates  • Galaxy Blade  • Blade Family  • Voidstorm Pirates  • The Crimson Dawn Pirates  • Ash  • The Sea Devil Pirates
Groups:
The Jolly Pirates  • Spike's Soldiers  • Ika Bounty Hunters  • Shin and Ika Hunters  • The Four Legged Pirates  • Kuro Lobos Gang  • The Storm Pirates  • The Valkyrie Pirates  • Lucky Streak Division  • The No Beard Pirates  • The Wild Generation  • The Collosal Pirates  • Ghoul Branch  • The Blazing Mane Pirates  • The New Blazing Mane Pirates  • The Kirin Pirates  • No Beard Pirate Army  • Seven Heroes of the World  • Shitenno

Abilities
Devil Fruit Based:
Nendo Nendo no Mi  • Dino Dino no Mi, Model: Kentrosaurus  • Yaku Yaku no Mi  • Feizu Feizu no Mi  • Chi Chi no Mi  • Hito Hito no Mi, Model: Zombie  • Mushi Mushi no Mi, Model: Black Widow  • Roketto Roketto no Mi  • Aku Aku no Mi  • Mondai Mondai no Mi  • Banrai Banrai no Mi  • Gurisu Gurisu no Mi  • Hito Hito no Mi, Model: Enyo  • Kawaii Kawaii no Mi  • Youmei Youmei no Mi  • Saru Saru no Mi, Model: Gorilla  • Uma Uma no Mi, Model: Mustang  • Mushi Mushi no Mi, Model: Honey Bee  • Shuuchuu Shuuchuu no Mi  • Jori Jori no Mi  • Zaigo Zaigo no Mi, Model: Lust  • Saimin Saimin no Mi  • Tatsu Tatsu no Mi, Model: Shenlong  • Jimen Jimen no Mi  • Hebi Hebi no Mi, Model: Hornsman  • Batto Batto no Mi, Model: Myotis Myotis  • Oni Oni no Mi, Model: Behemoth  • Dino Dino no Mi, Model: Utahraptor  • Nawa Nawa no Mi  • Zaigo Zaigo no Mi, Model: Sloth  • Karori Karori no Mi  • Ibi Ibi no Mi  • Hitta Hitta no Mi  • Inu Inu no Mi, Model: Rottweiler  • Sekai Sekai no Mi  • Tsuya Tsuya no Mi
Fighting Style Based:
Shandian Jujitsu  • Okama Kenpo  • Bigfoot Muay-Thai  • Fishman Karate  • Shinku Rengetsu  • Enchantment  • Red Boxing Style  • Lucy's Tricks  • Wild Style Kung-Fu  • Rokushiki  • Combat Maneuvers  • Coronan Krav Maga  • Sexy Style
Swords Styles:
Dracule Sakura's Ittoryu  • Momoran  • Moon Harvest  • Eien no Tsuki  • Gyousei  • Hattoryu  • The Eight Arms  • Flying Dancer  • S.O.U.L.  • Keiro e Eden  • Vega's Santoryu
Weapon Based:
Plated Fists  • Timber Ultra Collection (Storm Edition)  • Wyatt's Arsenal  • Nyoibo  • Anne's Arsenal  • Reis' Concert  • Gungnir  • Guardrone  • Niboryu (Ibboryu)  • Shellman  • Grim  • Liger Claws
Support Abilities:
Haki  • Revival Cube  • Life Return  • Placebo Power Pill  • Gender Tablet
Ad blocker interference detected!
Wikia is a free-to-use site that makes money from advertising. We have a modified experience for viewers using ad blockers

Wikia is not accessible if you've made further modifications. Remove the custom ad blocker rule(s) and the page will load as expected.