Ad blocker interference detected!
Wikia is a free-to-use site that makes money from advertising. We have a modified experience for viewers using ad blockers

Wikia is not accessible if you've made further modifications. Remove the custom ad blocker rule(s) and the page will load as expected.
This article, Neko Neko no Mi, Model: Nekomata, is property of Generalzer0.
Neko Neko no Mi, Model: Nekomata
Statistics
Japanese Name:
ネコネコの実 モデル:猫又
English Name:
Cat-Cat Fruit Monster Cat Model (Viz);

Cat-Cat Fruit, Model: Two-Tailed Cat (FUNimation)

Meaning:
Cat
First Appearance:
Unknown
Type:
Mythical Zoan
Eaten by:
Nicholas Kelt
The Neko Neko no Mi, Model: Nekomata is a Mythical Zoan type Devil Fruit that was eaten by Rokusaburo Park of the Angel Pirates.
Appearance
Edit
Strengths
Edit
A major strength of this fruit is that it grants the user the ability to transform into a two-tailed cat and human-two-tailed cat hybrid. The user is capable of creating ghostly fireballs.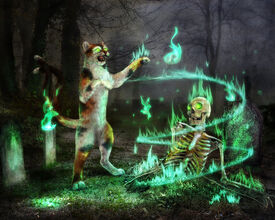 The user is able to transform into anyone who the user has physically contacted before. The user is also capable of re-animating a dead corpse by transferring a bit of energy over. The user is capable of eating anything, without feeling the effects of anything that could be fatal to a normal human body. The user is also capable of phasing through solid objects.
Weaknesses
Edit
Despite having a body made up of ghostly fire, the user is still susceptible to physical attacks. In order to transform into another person, the must have had been in physical contact with said person. Although the user is capable of re-animating a dead corpse, the user has to transfer energy over for the corpse to re-animate and the more energy given out, the longer the corpse stay re-animated. Another weakness with the corpse is that it is still as strong as when it was alive, so if if the corpse was weak when it was alive then it will stay weak after being re-animated. Other than that, the user suffers from standard Devil Fruit weaknesses.
Blue Fire:
Green Fire:
Black Fire:
Rise of the Dead:
Leo Flames:
Regal Fire:
Copycat:
External Links
Edit
http://en.wikipedia.org/wiki/Bakeneko
http://browse.deviantart.com/?qh=§ion=&q=nekomata#/d2fhdac
Devil Fruits
Paramecia
Fanon:
Afuro Afuro no Mi • Agaru Agaru no Mi • Ai Ai no Mi • Aiborii Aiborii no Mi • Akirasu Akirasu no Mi • Aku Aku no Mi • Akumu Akumu no Mi • Ama Ama no Mi • Amba Amba no Mi • Ana Ana no Mi • Aoi Aoi no Mi • Ara Ara no Mi • Aren Aren no Mi • Ase Ase no Mi • Aso Aso no Mi • Asobu Asobu no Mi • Ato Ato no Mi • Atsuryoku Atsuryoku no Mi • Azure Azure no Mi • Bagu Bagu no Mi • Baito Baito no Mi • Baizo Baizo no Mi • Baka Baka no Mi • Bakuha Bakuha no Mi • Ban Ban no Mi • Bannou Bannou no Mi • Banrai Banrai no Mi • Barans Barans no Mi • Bareisetu Bareisetu no Mi • Bataa Bataa no Mi • Bijo Bijo no Mi • Biri Biri no Mi • Birudo Birudo no Mi • Bitto Bitto no Mi • Boa Boa no Mi • Boeki Boeki No Mi • Bokki Bokki no Mi • Boko Boko no Mi • Boku Boku no Mi, Model: Toon • Boku Boku no Mi, Model: Monkey • Boku Boku no Mi, Model: Jiang Shi • Boruto Boruto no Mi • Boson Boson no Mi Model: Higgs • Bosu Bosu no Mi • Buho Buho no Mi • Buku Buku no Mi • Bunkai Bunkai no Mi • Bunkatsu Bunkatsu no Mi • Bunkou Bunkou no Mi • Bunshi Bunshi no Mi • Buredo Buredo no Mi • Buru Buru no Mi • Busou Busou no Mi • Buza Buza no Mi • Byoutai Byoutai no Mi • Chakku Chakku no Mi • Chatto Chatto no Mi • Cheap Trick Cheap Trick Fruit • Chen Chen no Mi • Chi Chi no Mi • Chibi Chibi no Mi • Chika Chika no Mi • Chikan Chikan no Mi • Chimei Chimei no Mi • Chiyu Chiyu no Mi • Chizu Chizu no Mi • Chokoreto Chokoreto no Mi • Choutsugai Choutsugai no Mi • Chozo Chozo no Mi • Chou Chou no Mi • Daburu Daburu no Mi • Daho Daho no Mi • Daku Daku no Mi • Dangan Dangan no Mi • Dashi Dashi no Mi • Dassui Dassui no Mi • Deba Deba no Mi • Deji Deji no Mi • Denka Denka no Mi • Dian Dian no Mi • Doki Doki no Mi • Dokuke Dokuke no Mi • Dona Dona no Mi • Dondo Dondo no Mi • Dorei Dorei no Mi • Dosu Dosu no Mi • Douteki Douteki no Mi • Dovah Dovah no Mi • Dēta Dēta no Mi • Earo Earo no Mi • Eda Eda no Mi • Ei Ei no Mi • Eika Eika no Mi • Eko Eko no Mi • Emo Emo no Mi • Enjeru Enjeru no Mi • Feizu Feizu no Mi • Fomu Fomu no Mi • Foosu Foosu No Mi • Fuki Fuki no Mi • Fuku Fuku no Mi • Fukugen Fukugen no Mi • Funjin Funjin no Mi • Fura Fura no Mi • Furatto Furatto No Mi • Furoura Furoura no Mi • Fusen Fusen no Mi • Futsu Futsu no Mi • Fuzei Fuzei no Mi • Gaia Gaia no Mi • Gama Gama no Mi • Gamme Gamme no Mi • Gattai Gattai no Mi • Gazō Gazō no Mi • Geki Geki no Mi • Genki Genki no Mi • Genshi Genshi no mi • Gensho Gensho no Mi • Genso Genso no Mi • Giga Giga no Mi • Giri Giri no Mi • Giga Giga no Mi • Giri Giri no Mi • Girochin Girochin no Mi • Giten Giten no Mi • Gokuin Gokuin no Mi • Goldfreed/Seigyo Seigyo no Mi • Grow Grow no Mi • Gumo Gumo no Mi • Guri Guri no Mi • Gurisu Gurisu no Mi • Guru Guru no Mi • Gurō Gurō no Mi • Guujin Guujin no Mi • Gyagu Gyagu no Mi • Gyaku Gyaku no Mi • Gyu Gyu no Mi • Gyuto Gyuto no Mi • Hada Hada no Mi • Hadaka Hadaka no Mi • Hage Hage no Mi • Hahen Hahen no Mi • Hakkyou Hakkyou no Mi • Hakuri Hakuri no Mi • Hame Hame no Mi • Hamon Hamon no Mi • Hane Hane no Mi • Hanpatsu Hanpatsu no Mi • Hansu Hansu no Mi • Hara Hara no Mi • Hari Hari no Mi • Harou Harou no Mi • Haruoin Haruoin no Mi • Hazumi Hazumi no Mi • Hebereke Hebereke no Mi • Hebu Hebu no Mi • Heddo Heddo No Mi • Hedo Hedo no Mi • Heiko Heiko no Mi • Henko Henko no Mi • Henshi Henshi no Mi • Henshin Henshin no Mi • Hentai Hentai no Mi • Hentsuu Hentsuu no Mi • Hiba Hiba no Mi • Hibiki Hibiki no Mi • Hiku Hiku no Mi • Hiraku Hiraku no Mi • Hisu Hisu no Mi • Hon Hon no Mi • Hone Hone no Mi • Honsho Honsho no Mi • Horu Horu no Mi • Hotai Hotai no Mi • Houki Houki no Mi • Houmon Houmon no Mi • Houritsu Houritsu no Mi • Hyo Hyo no Mi • Ibi Ibi no Mi • Ichiban Ichiban no Mi • Iji Iji no Mi • Ikari Ikari no Mi • Ikioi Ikioi no Mi • Inferuno Inferuno no Mi • Inku Inku no Mi • Inyo Inyo no Mi • Irege Irege no Mi • Iro Iro no Mi • Iru Iru no Mi • Ishi Ishi no Mi • Ishoku Ishoku no Mi • Ishu Ishu no Mi • Itai Itai no Mi • Itami Itami no Mi • Ito Ito no Mi • Jaku Jaku no Mi • Jala Jala no Mi • Janpu Janpu no Mi • Jigen Jigen no Mi • Jigoku Jigoku no Mi • Jingen Jingen no Mi • Jinmon Jinmon no Mi • Jinsei Jinsei no Mi • Jiten Jiten no Mi • Joker/Yume Yume no Mi • Jori Jori no Mi • Josei Josei no Mi • Joumae Joumae no Mi • Juhi Juhi no Mi • Juuni Juuni no Mi • Juzo Juzo no Mi • Jūtan Jūtan no Mi • Kaada Kaada no Mi • Kabe Kabe no Mi • Kabu Kabu no Mi • Kagenui Kagenui no Mi • Kai Kai no Mi • Kaichū Kaichū no Mi • Kaigara Kaigara no Mi • Kaiki Kaiki no Mi • Kaimen Kaimen no Mi • Kairo Kairo no Mi • Kaisei Kaisei no Mi • Kakka Kakka no Mi • Kaku Kaku no Mi • Kakumau Kakumau no Mi • Kamen Kamen no Mi • Kami Kami no Mi, Model: Chuck Norris • Kamoji Kamoji no Mi • Kanji Kanji no Mi • Kanken Kanken no Mi • Kanon Kanon no Mi, Model: Doflamingo • Kanrui Kanrui no Mi • Kansou Kansou no Mi • Kara Kara no Mi • Karai Karai no Mi • Karori Karori no Mi • Karu Karu no Mi • Karushiumu Karushiumu no Mi • Kasa Kasa no Mi • Kashaku Kashaku no Mi • Kata Kata no Mi • Katto Katto no Mi • Kawa Kawa no Mi • Kawaii Kawaii no Mi • Kawaru Kawaru no Mi • Kayaku Kayaku No Mi • Kaze Kaze no Mi • Keisha Keisha no Mi • Kemi Kemi no Mi • Ken Ken no Mi • Kesshou Kesshou no Mi • Ketsu Ketsu no Mi • Kettei Kettei no Mi • Ki Ki no Mi • Kiba Kiba no Mi • Kieru Kieru no Mi • Kiiin Kiiin no Mi • Kikai Kikai no Mi • Kikan Kikan no Mi • Kiki Kiki no Mi • Kiko Kiko no Mi • Kimu Kimu no Mi • Kimyona Kimyona no Mi • Kina Kina no Mi • Kinko Kinko no Mi • Kioku Kioku no Mi • Kirei Kirei no Mi • Kiru Kiru no Mi • Kisei Kisei no Mi • Kiseru Kiseru no Mi • Kisu Kisu no Mi • Kitai Kitai no Mi • Kitei Kitei no Mi • Koda Koda no Mi • Koe Koe no Mi • Koete Koete no Mi • Koin Koin no Mi • Koju Koju no Mi • Kokami Kokami no Mi • Kokkei Kokkei no Mi • Kokudo Kokudo no Mi • Konki Konki no Mi • Kori Kori no Mi • Koro Koro no Mi • Koroni Koroni no Mi • Koso Koso no Mi • Koto Koto no Mi • Kotsuzui Kotsuzui no Mi • Kouryou Kouryou no Mi • Kubomi Kubomi no Mi • Kuda Kuda no Mi • Kujo Kujo no Mi • Kuka Kuka no Mi • Kukku Kukku no Mi • Kurasi Kurasi no Mi • Kurasshu Kurasshu no Mi • Kuro Kuro no Mi • Kurohi Kurohi no Mi • Kurono Kurono no Mi • Kurōn Kurōn no Mi • Kyofu Kyofu no Mi • Kyoushin Kyoushin no Mi • Kyuugi Kyuugi no Mi • Loki Loki no Mi • Macchi Macchi no Mi • Maga Maga no Mi • Magata Magata no Mi • Mahō Mahō no Mi • Maki Maki no Mi • Mana Mana no Mi • Manga Manga no Mi • Mari Mari no Mi • Marubori Marubori no Mi • Mashu Mashu no Mi • Masu Masu no Mi • Masuku Masuku no Mi • Mata Mata no Mi • Matsu Matsu no Mi • Mazui Mazui no Mi • Mecha Mecha no Mi • Meijiru Meijiru no Mi • Meno Meno no Mi • Meshi Meshi no Mi • Micro Micro no Mi • Minion Minion no Mi, Model: Goblin • Minion Minion no Mi, Model: Okama • Minion Minion no Mi, Model: Tengu • Mira Mira no Mi • Misuto Misuto no Mi • Mita Mita no Mi • Modor Modor no Mi • Moeru Moeru no Mi • Moko Moko no Mi • Mondai Mondai no Mi • Muku Muku no Mi • Mune Mune no Mi • Mura Mura no Mi • Musha Musha no Mi • Mīmu Mīmu no Mi • Nabe Nabe no Mi • Nagi Nagi no Mi • Naiha Naiha no Mi • Naku Naku no Mi • Nama Nama no Mi • Namba Namba no Mi • Nandemo Nandemo no Mi • Nanten Nanten no Mi • Nari Nari no Mi • Nawa Nawa no Mi • Nazo Nazo no Mi • Nebai Nebai no Mi • Neji Neji no Mi • Nen Nen no Mi • Neneki Neneki no Mi • Netsu Netsu no Mi • Nibun Nibun no Mi • Niji Niji no Mi • Niju Niju no Mi, Model: Heart • Ningyou Ningyou no Mi • Nioi Nioi no Mi • Nirvana Nirvana no Mi • Noroi Noroi no Mi • Noukou Noukou no Mi • Nui Nui no Mi • Nuu Nuu no Mi • Obake Obake no Mi • Oboe Oboe no Mi • Oidasu Oidasu no Mi • Oishii Oishiii no Mi • Omamori Omamori no Mi • Omo Omo no Mi • Omocha Omocha no Mi • Omosa Omosa no Mi • Ondo Ondo no Mi • Ongaku Ongaku no Mi • Onjun Onjun no Mi • Ora Ora no Mi • Oru Oru no Mi • Oshi Oshi no Mi • Pai Pai no Mi • Pin Pin no Mi • Pota Pota no Mi • Pozu Pozu no Mi • Psi Psi no Mi • Puni Puni no Mi • Puro Puro no Mi • Purē Purē no Mi • Qwan Qwan no Mi • Rafu Rafu no Mi • Rain Rain no Mi • Rakuin Rakuin no Mi • Ran Ran no Mi • Reibei Reibei no Mi • Reikei Reikei no Mi • Renge Renge no Mi • Rensa Rensa no Mi • Resu Resu no Mi • Rijekuto Rijekuto No Mi • Rikugun Rikugun no Mi • Rimo Rimo no Mi • Risa Risa no Mi • Robo Robo no Mi • Rojiumu Rojiumu no mi • Roketto Roketto no Mi • Rokku Rokku no Mi • Ronbun Ronbun no Mi • Rotto Rotto no Mi • Rouka Rouka no Mi • Roze Roze no Mi • Ruru Ruru No Mi • Ruun Ruun no Mi • Ryouchi Ryouchi no Mi • Ryusei Ryusei no Mi • Ryuu Ryuu no Mi • Sacchi Sacchi no Mi • Saimin Saimin no Mi • Saizu Saizu No Mi • Sake Sake no Mi • Saku Saku no Mi • Samo Samo no Mi • Samui Samui no Mi • Sanjaku Sanjaku no Mi • Sanso Sanso no Mi • Saru Saru no Mi • Sasa Sasa no Mi • Sasshou Sasshou no Mi • Sawa Sawa no Mi • Sebu Sebu no Mi • Seigen Seigen no Mi • Seimei Seimei no Mi • Sekai Sekai no Mi • Seken Seken no Mi • Seko Seko no Mi • Seme Seme no Mi • Sen Sen no Mi • Senjuugan Senjuugan no Mi • Senkou Senkou no Mi • Senna Senna no Mi • Sennou Sennou no Mi • Senro Senro no Mi • Senzei Senzei no Mi • Senzo Senzo no Mi • Shaffuru Shaffuru no Mi • Shareedo Shareedo no Mi • Sheru Sheru no Mi • Sheru Sheru no Mi, Model: Dials • Shifuto Shifuto no Mi • Shiki Shiki no Mi • Shin Shin no Mi • Shindo Shindo no Mi • Shini Shini no Mi • Shinjitsu Shinjitsu no Mi • Shinkei Shinkei no Mi • Shinteki Shinteki no Mi • Shiro Shiro no Mi • Shirudo Shirudo no Mi • Shiryoku Shiryoku no Mi • Shiryou Shiryou no Mi • Shokki Shokki no Mi • Shokubun Shokubun no Mi • Shokyo Shokyo no Mi • Shoujun Shoujun no Mi • Shuuchuu Shuuchuu no Mi • Shuumi Shuumi no Mi • Shīdo Shīdo no Mi • Sinju Sinju no Mi • Soku Soku no Mi • Sora Sora no Mi • Sorikata Sorikata no Mi • Soroi Soroi no Mi • Sosen Sosen no Mi • Soukon Soukon no Mi • Sozo Sozo ni Mi • Step Step no Mi • Sugoi Sugoi no Mi • Sugu Sugu no Mi • Suimin Suimin no Mi • Suitchi Suitchi no Mi • Suk Suk no Mi • Sumuji Sumuji no Mi • Supairaru Supairaru no Mi • Supia Supia no Mi • Supin Supin no Mi • Supo Supo no Mi • Suu Suu no Mi • Suxi Suxi no Mi • Taberu Taberu no Mi • Taiho Taiho no Mi • Taiyo Taiyo no Mi • Taka Taka no Mi • Taku Taku no Mi • Tanagumo Tanagumo no Mi • Tanzou Tanzou No Mi • Tatchi Tatchi no Mi • Tate Tate no Mi • Teiku Teiku no Mi • Tekna Tekna no Mi • Tekuno Tekuno no Mi • Tengatai Tengatai no Mi • Tenketsu Tenketsu no Mi • Tensai Tensai no Mi • Tera Tera no Mi • Ti Ti No Mi • Todana Todana no Mi • Togu Togu no Mi • Tojita Tojita no Mi • Tokei Tokei no Mi • Toppu Toppu no Mi • Toru Toru no Mi • Tosshin Tosshin no Mi • Towa Towa no Mi • Tsuki Tsuki no Mi • Tsuku Tsuku no Mi • Tsume Tsume no Mi • Tsuru Tsuru no Mi • Tētsu Tētsu no Mi • Uchuu Uchuu no Mi • Uta Uta no Mi • Uzu Uzu no Mi • Wepun Wepun No Mi • Xiba Xiba no Mi • Yajuu Yajuu no Mi • Yaku Yaku no Mi • Yama Yama no Mi • Yamai Yamai no Mi • Yogu Yogu no Mi • Yoku Yoku no Mi • You You no Mi • Youmei Youmei no Mi • Youryou Youryou no Mi • Yumiya Yumiya no Mi • Yusu Yusu no Mi • Yuuguu Yuuguu no Mi • Zai Zai no Mi • Zaigo Zaigo no Mi, Model: Envy • Zaigo Zaigo no Mi, Model: Gluttony • Zaigo Zaigo no Mi, Model: Greed • Zaigo Zaigo no Mi, Model: Lust • Zaigo Zaigo no Mi, Model: Pride • Zaigo Zaigo no Mi, Model: Wrath • Zaigo Zaigo no Mi: Model Sloth • Zenchou Zenchou no Mi • Zettai Zettai no Mi • Zoku Zoku no Mi • Zwei Zwei no Mi • Zūmu Zūmu no mi • Ōtobai Ōtobai no Mi
Zoan
Fanon:
Aus Aus no Mi, Model: Tasmanian Devil • Batto Batto no Mi • Batto Batto no Mi, Model: Fruit Bat • Batto Batto no Mi, Model: Myotis Myotis • Danu Danu no Mi, Model: Brahma • Danu Danu no Mi, Model: Chandra • Danu Danu no Mi, Model: Durga • Danu Danu no Mi, Model: Ganesh • Danu Danu no Mi, Model: Ganga • Danu Danu no Mi, Model: Garuda • Danu Danu no Mi, Model: Great Mother Kāli • Danu Danu no Mi, Model: Hanuman • Danu Danu no Mi, Model: Krishna • Danu Danu no Mi, Model: Lakshmi • Danu Danu no Mi, Model: Mahishasura • Danu Danu no Mi, Model: Narasimha • Danu Danu no Mi, Model: Rama • Danu Danu no Mi, Model: Ravana • Danu Danu no Mi, Model: Surya • Danu Danu no Mi, Model: Tridevi • Danu Danu no Mi, Model: Trimurti • Danu Danu no Mi, Model: Varaha • Danu Danu no Mi, Model: Vishnu • Dino Dino no Mi, Model: Ankylosaurus • Dino Dino no Mi, Model: Archaeopteryx • Dino Dino no Mi, Model: Kentrosaurus • Dino Dino no Mi, Model: Pterodactyl • Dino Dino no Mi, Model: Quetzalcoatlus • Dino Dino no Mi, Model: Spinosaurus • Dino Dino no Mi, Model: Triceratops • Dino Dino no Mi, Model: Tyrannosaurus Rex • Dino Dino no Mi, Model: Utahraptor • Dino Dino no Mi, Model: Velociraptor • Eki Eki no Mi, Model: Aran rock lizard • Eki Eki no Mi, Model: Armadillo • Eki Eki no Mi, Model: Chameleon • Eki Eki no Mi, Model: Gecko • Eki Eki no Mi, Model: Iguana • Eki Eki no Mi, Model: Komodo Dragon • Eki Eki no Mi, Model: Montseny brook newt • Eki Eki no Mi, Model: Salamander (Legendary) • Fugu Fugu no Mi • Futagoza Futagoza no Mi • Gama Gama no Mi, Model: Ferreret • Gama Gama no Mi, Model: Toad • Guma Guma no Mi • Gumo Gumo no Mi • Gāgoiru Gāgoiru no Mi • Hachi Hachi no Mi • Hamusuta Hamusuta no Mi, Model: Womble • Hebi Hebi no Mi, Model: Basilisk • Hebi Hebi no Mi, Model: Black Mamba • Hebi Hebi no Mi, Model: Glycon • Hebi Hebi no Mi, Model: Hornsman • Hebi Hebi no Mi, Model: Inland Taipan • Hebi Hebi no Mi, Model: Nāga   Hebi Hebi no Mi, Model: Salamander • Hebi Hebi no Mi, Model: Water Moccasin • Hebi Hebi no Mi, Model; Hebikami • Hebi Hebi no Mi,Model: Yamata No Orochi • Hebi Hebi no Mi: Cobra • Heka Heka no Mi • Hidora Hidora no Mi • Hippalectryon Hippalectryon no Mi • Hiro Hiro no Mi • Hit Hito no Mi Model: Machai • Hito Hito No Mi Model: Yuki Onna • Hito Hito no Mi Model: Boogeyman • Hito Hito no Mi, Model: Aisutaitan • Hito Hito no Mi, Model: Aka Manto • Hito Hito no Mi, Model: Angel • Hito Hito no Mi, Model: Asura • Hito Hito no Mi, Model: Cyclops • Hito Hito no Mi, Model: Daiakuma • Hito Hito no Mi, Model: Daisei • Hito Hito no Mi, Model: Dark Elf • Hito Hito no Mi, Model: Death • Hito Hito no Mi, Model: Demon • Hito Hito no Mi, Model: Djinn • Hito Hito no Mi, Model: Dryad • Hito Hito no Mi, Model: Enyo • Hito Hito no Mi, Model: Fairy • Hito Hito no Mi, Model: Fallen Angel • Hito Hito no Mi, Model: Famine • Hito Hito no Mi, Model: Fudo Myoo • Hito Hito no Mi, Model: Gabriel • Hito Hito no Mi, Model: Ghost • Hito Hito no Mi, Model: Golem • Hito Hito no Mi, Model: Hachiman • Hito Hito no Mi, Model: Kongorikishi • Hito Hito no Mi, Model: Leprechaun • Hito Hito no Mi, Model: Light Elf • Hito Hito no Mi, Model: Lilith • Hito Hito no Mi, Model: Longarm • Hito Hito no Mi, Model: Lucifer • Hito Hito no Mi, Model: Medusa • Hito Hito no Mi, Model: Mummy • Hito Hito no Mi, Model: Nymph • Hito Hito no Mi, Model: Pestilence • Hito Hito no Mi, Model: Rusalka • Hito Hito no Mi, Model: Senju Kannon • Hito Hito no Mi, Model: Shinigami • Hito Hito no Mi, Model: Slender Man • Hito Hito no Mi, Model: Spring Heeled Jack • Hito Hito no Mi, Model: Stickman • Hito Hito no Mi, Model: Succubus • Hito Hito no Mi, Model: Talos • Hito Hito no Mi, Model: Titan • Hito Hito no Mi, Model: Vampire • Hito Hito no Mi, Model: Vanara • Hito Hito no Mi, Model: Veela • Hito Hito no Mi, Model: War • Hito Hito no Mi, Model: Yama • Hito Hito no Mi, Model: Yeti • Hito Hito no Mi, Model: Yokai • Hito Hito no Mi, Model: Zombie • Inu Inu no Mi, Model: Canis Ferox • Inu Inu no Mi Model: Cerberus • Inu Inu no Mi, Model: Dip • Inu Inu no Mi Model: Fox • Inu Inu no Mi Model: Terrier • Inu Inu no Mi, Model: Arctic Fox • Inu Inu no Mi, Model: Bulldog • Inu Inu no Mi, Model: Chupacabra • Inu Inu no Mi, Model: Coyote • Inu Inu no Mi, Model: Fenrir • Inu Inu no Mi, Model: Hellhound • Inu Inu no Mi, Model: Hyena • Inu Inu no Mi, Model: Inugami • Inu Inu no Mi, Model: Kyūbi no Kitsune • Inu Inu no Mi, Model: Orthrus • Inu Inu no Mi, Model: Pesanta • Inu Inu no Mi, Model: Rottweiler • Inu Inu no Mi, Model: Werewolf • Itachi Itachi no Mi • Kaki Kaki no Mi • Kame Kame no Mi, Model: Tortoise • Kami Kami no Mi, Model: Chuck Norris • Kami Kami no Mi, Model: Gir • Kana Kana no Mi • Kani Kani no Mi, Model: King Crab • Kanon Kanon no Mi, Model: Doflamingo • Kin Kin no Mi • Komori Komori no Mi • Kujira Kujira no Mi, Model: Blue Whale • Kujira Kujira no Mi, Model: Fail Whale • Kuma Kuma no Mi, Model: Black Bear • Kuma Kuma no Mi, Model: Brown Bear • Kuma Kuma no Mi, Model: Koala • Kuma Kuma no Mi, Model: Panda • Kuma Kuma no Mi, Model: Polar Bear • Kuto Kuto no Mi • Kyojin Kyojin no Mi • Marsu Marsu no Mi, Model: Kangaroo • Mushi Mushi no Mi, Model: Ant • Mushi Mushi no Mi, Model: Black Widow • Mushi Mushi no Mi, Model: Brown Recluse • Mushi Mushi no Mi, Model: Death's Head • Mushi Mushi no Mi, Model: Grand Moth • Mushi Mushi no Mi, Model: Honey Bee • Mushi Mushi no Mi, Model: Hopper • Mushi Mushi no Mi, Model: Kabuto • Mushi Mushi no Mi, Model: Paleozoic • Mushi Mushi no Mi, Model: Praying Mantis • Mushi Mushi no Mi, Model: Queen Butterfly • Mushi Mushi no Mi, Model: Scorpion • Mushi Mushi no Mi, Model: Stag Beetle • Mushi Mushi no Mi, Model: Voodoo Wasp • Mushi Mushi no Mi, Model: Wyrm • Mushi Mushi no mi, Model: Centipede • Neko Neko no Mi model: Egyptian Mau • Neko Neko no Mi, Model: Bayun • Neko Neko no Mi, Model: Black Panther • Neko Neko no Mi, Model: Byakko • Neko Neko no Mi, Model: Jaguar • Neko Neko no Mi, Model: Korat • Neko Neko no Mi, Model: Liger • Neko Neko no Mi, Model: Lion • Neko Neko no Mi, Model: Lynx • Neko Neko no Mi, Model: Moggy • Neko Neko no Mi, Model: Nekomata • Neko Neko no Mi, Model: Nemean Lion • Neko Neko no Mi, Model: Ocelot • Neko Neko no Mi, Model: Sabretooth Tiger • Neko Neko no Mi, Model: Tiger • Neko Neko no Mi, Model: Wildcat • Nezu Nezu no Mi, Model: Echidna • Nezu Nezu no Mi, Model: Hedgehog • Ningyo Ningyo no Mi • Nyan Nyan no Mi • Ohitsuji Ohitsuji no Mi • Oni Oni no Mi, Model: Behemoth • Oni Oni no Mi, Model: Daitengu • Oni Oni no Mi, Model: Demon Boar • Oni Oni no Mi, Model: Demon King • Oni Oni no Mi, Model: Dullahan • Oni Oni no Mi, Model: Erinys • Oni Oni no Mi, Model: Eurynomus • Oni Oni no Mi, Model: Fire Demon • Oni Oni no Mi, Model: Ogre • Oni Oni no Mi, Model: Rakshasa • Oni Oni no Mi, Model: Sea Devil • Oni Oni no Mi, Model: Shadow Demon • Oni Oni no Mi, Model: Spirit of Vengeance • Orumekko Orumekko no Mi • Rakko Rakko no Mi • Rakuun Rakuun no Mi, Model: Ring-tailed Cat • Reopon Reopon No Mi • Risu Risu no Mi, Model: Foamy • Sagi Sagi no Mi • Sakana Sakana no Mi, Model: Cthulhu • Sakana Sakana no Mi, Model: Kraken • Sakana Sakana no Mi, Model: Shark • Sakana Sakana no mi Model: Megalodon • Saru Saru no Mi, Model: Baboon • Saru Saru no Mi, Model: Gorilla • Saru Saru no Mi, Model: Hihi • Seirei Seirei no Mi, Model: Baku • Seirei Seirei no Mi, Model: Samedi • Seirei Seirei no Mi, Model: Sylph • Shachi Shachi no Mi • Shinka Shinka no Mi • Shika Shika no Mi, Model: Black Elk • Shiroari Shiroari no Mi • Shishi Shishi no Mi, Model: Banshee • Shishi Shishi no Mi, Model: Chimera • Shishi Shishi no Mi, Model: Nian • Shishi Shishi no Mi, Model: Okami • Sufin Sufin no Mi, Model: Andro • Tako Tako no Mi, Model: Mimic Octopus • Tankourui Tankourui no Mi, Model: Platypus • Tatsu Tatsu No Mi, Model: The Níðhöggr • Tatsu Tatsu no Mi • Tatsu Tatsu no Mi, Model: Apocalyptic Dragon • Tatsu Tatsu no Mi, Model: Azure Dragon • Tatsu Tatsu no Mi, Model: Colchian Dragon • Tatsu Tatsu no Mi, Model: Dark Dragon • Tatsu Tatsu no Mi, Model: Earthland Dragon • Tatsu Tatsu no Mi, Model: Fire Dragon • Tatsu Tatsu no Mi, Model: Freshwater Dragon • Tatsu Tatsu no Mi, Model: Frost Dragon • Tatsu Tatsu no Mi, Model: Golden Dragon • Tatsu Tatsu no Mi, Model: Holy Dragon • Tatsu Tatsu no Mi, Model: Ice Dragon • Tatsu Tatsu no Mi, Model: Infinity Dragon • Tatsu Tatsu no Mi, Model: Kirin • Tatsu Tatsu no Mi, Model: Mother Night • Tatsu Tatsu no Mi, Model: Night King • Tatsu Tatsu no Mi, Model: Ryujin • Tatsu Tatsu no Mi, Model: Seiryu • Tatsu Tatsu no Mi, Model: Shikyo Ryuu • Tatsu Tatsu no Mi, Model: Skeletal Dragon • Tatsu Tatsu no Mi, Model: Space Dragon • Tatsu Tatsu no Mi, Model: Star Dragon • Tatsu Tatsu no Mi, Model: Titan Dragon • Tatsu Tatsu no Mi, Model: Twilight Dragon • Tatsu Tatsu no Mi, Model: Void Dragon • Tatsu Tatsu no Mi, Model: Wyvern • Tori Tori no Mi, Model: Achiyalabopa • Tori Tori no Mi, Model: Barn Owl • Tori Tori no Mi, Model: Carrion Crow • Tori Tori no Mi, Model: Chicken • Tori Tori no Mi, Model: Cockatrice • Tori Tori no Mi, Model: Crane • Tori Tori no Mi, Model: Crow • Tori Tori no Mi, Model: Dodo • Tori Tori no Mi, Model: Duck • Tori Tori no Mi, Model: Eagle-Owl • Tori Tori no Mi, Model: Emu • Tori Tori no Mi, Model: Gryffon • Tori Tori no Mi, Model: Hippogriff • Tori Tori no Mi, Model: Hummingbird • Tori Tori no Mi, Model: Lyrebird • Tori Tori no Mi, Model: Myna • Tori Tori no Mi, Model: Osprey • Tori Tori no Mi, Model: Ostrich • Tori Tori no Mi, Model: Parrot • Tori Tori no Mi, Model: Peacock • Tori Tori no Mi, Model: Penguin • Tori Tori no Mi, Model: Roc • Tori Tori no Mi, Model: Southern White-faced Owl • Tori Tori no Mi, Model: Thunderbird • Tori Tori no Mi, Model: Turkey • Tori Tori no Mi, Model: Vermilion Bird • Tori Tori no Mi, Model: White Dove • Tori Tori no Mi, Model: Woodpecker • Troaini Troaini No Mi • Uki Uki no Mi, Model: Chimpanzee no Mi • Uma Uma no Mi, Model: Chìtù Mǎ • Uma Uma no Mi, Model: Mustang • Uma Uma no Mi, Model: Pegasus • Uma Uma no Mi, Model: Unicorn • Usa Usa no Mi, Model: Lapahn • Ushi Ushi no Mi, Model: Antelope • Ushi Ushi no Mi, Model: Kelpie • Ushi Ushi no Mi, Model: Kudu • Ushi Ushi no Mi, Model: Ox • Ushi Ushi no Mi, Model: Toro Bravo • Ushi Ushi no Mi, Model: Water Buffalo • Viru Viru no Mi • Wani Wani no Mi • Wani Wani no Mi, Model: Bananadile • Yagi Yagi no Mi • Yajuu Yajuu no Mi, Model: Raijuu • Yajuu Yajuu no Mi, Model: Wendigo • Yajuu Yajuu no Mi, Model: Ziz • Zou Zou no Mi, Model: Elephas Maximus • Zou Zou no Mi, Model: Mammoth • Ōmono Ōmono no Mi, Model: Haiperion • Ōmono Ōmono no Mi, Model: Taifū