Rensa Rensa no Mi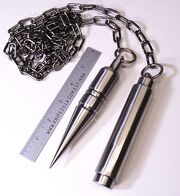 Japanese Name:
(japanese kanji)
English Name: Chain Chain fruit
Meaning: Chain
Type:
Power: go and see.
Eaten By:
Story / Creator: Stormbaron
Introduction
Edit
Appearance
Edit
The power to generate and manipulate psionic chain-like weapons, in addition to chains themselves.
Strengths
Edit
Weaknesses
Edit
The user suffers from standard Devil Fruit weaknesses.
Mental Commands:
The chain's obeys the mental commands of the user. When the user wills generates it to be used as a multipurpose weapon.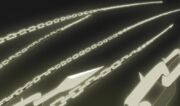 Variable Length: The chain is capable of mystically extending to greater lengths, it's limits are unknown.
Flail:
The chain's basic use is in the form of a flail whereby the spiked head is whipped around to strike targets at close range.

Lasso: With the chain gripped at one end, the other can be used to ensnare a target in a manner similar to a actual lasso.
Shuriken:
The chain is capable of separating into its component links, which then each morph into shuriken-like blades. These then reform back into the normal links and merge back into the chain.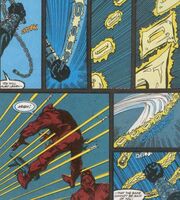 Staff:
The links in the chain can be stiffened, so that it in effect becomes a staff.

Saw:
The user can spin the chain at incredible speeds, essentially creating a saw capable of cutting through virtually any material.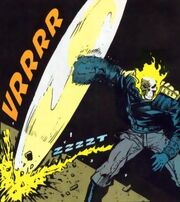 External Links
Edit
Devil Fruits
Paramecia
Fanon:
Afuro Afuro no Mi • Agaru Agaru no Mi • Ai Ai no Mi • Aiborii Aiborii no Mi • Akirasu Akirasu no Mi • Aku Aku no Mi • Akumu Akumu no Mi • Ama Ama no Mi • Amba Amba no Mi • Ana Ana no Mi • Aoi Aoi no Mi • Ara Ara no Mi • Aren Aren no Mi • Ase Ase no Mi • Aso Aso no Mi • Asobu Asobu no Mi • Ato Ato no Mi • Atsuryoku Atsuryoku no Mi • Azure Azure no Mi • Bagu Bagu no Mi • Baito Baito no Mi • Baizo Baizo no Mi • Baka Baka no Mi • Bakuha Bakuha no Mi • Ban Ban no Mi • Bannou Bannou no Mi • Banrai Banrai no Mi • Barans Barans no Mi • Bareisetu Bareisetu no Mi • Bataa Bataa no Mi • Bijo Bijo no Mi • Biri Biri no Mi • Birudo Birudo no Mi • Bitto Bitto no Mi • Boa Boa no Mi • Boeki Boeki No Mi • Bokki Bokki no Mi • Boko Boko no Mi • Boku Boku no Mi, Model: Toon • Boku Boku no Mi, Model: Monkey • Boku Boku no Mi, Model: Jiang Shi • Boruto Boruto no Mi • Boson Boson no Mi Model: Higgs • Bosu Bosu no Mi • Buho Buho no Mi • Buku Buku no Mi • Bunkai Bunkai no Mi • Bunkatsu Bunkatsu no Mi • Bunkou Bunkou no Mi • Bunshi Bunshi no Mi • Buredo Buredo no Mi • Buru Buru no Mi • Busou Busou no Mi • Buza Buza no Mi • Byoutai Byoutai no Mi • Chakku Chakku no Mi • Chatto Chatto no Mi • Cheap Trick Cheap Trick Fruit • Chen Chen no Mi • Chi Chi no Mi • Chibi Chibi no Mi • Chika Chika no Mi • Chikan Chikan no Mi • Chimei Chimei no Mi • Chiyu Chiyu no Mi • Chizu Chizu no Mi • Chokoreto Chokoreto no Mi • Choutsugai Choutsugai no Mi • Chozo Chozo no Mi • Chou Chou no Mi • Daburu Daburu no Mi • Daho Daho no Mi • Daku Daku no Mi • Dangan Dangan no Mi • Dashi Dashi no Mi • Dassui Dassui no Mi • Deba Deba no Mi • Deji Deji no Mi • Denka Denka no Mi • Dian Dian no Mi • Doki Doki no Mi • Dokuke Dokuke no Mi • Dona Dona no Mi • Dondo Dondo no Mi • Dorei Dorei no Mi • Dosu Dosu no Mi • Douteki Douteki no Mi • Dovah Dovah no Mi • Dēta Dēta no Mi • Earo Earo no Mi • Eda Eda no Mi • Ei Ei no Mi • Eika Eika no Mi • Eko Eko no Mi • Emo Emo no Mi • Enjeru Enjeru no Mi • Feizu Feizu no Mi • Fomu Fomu no Mi • Foosu Foosu No Mi • Fuki Fuki no Mi • Fuku Fuku no Mi • Fukugen Fukugen no Mi • Funjin Funjin no Mi • Fura Fura no Mi • Furatto Furatto No Mi • Furoura Furoura no Mi • Fusen Fusen no Mi • Futsu Futsu no Mi • Fuzei Fuzei no Mi • Gaia Gaia no Mi • Gama Gama no Mi • Gamme Gamme no Mi • Gattai Gattai no Mi • Gazō Gazō no Mi • Geki Geki no Mi • Genki Genki no Mi • Genshi Genshi no mi • Gensho Gensho no Mi • Genso Genso no Mi • Giga Giga no Mi • Giri Giri no Mi • Giga Giga no Mi • Giri Giri no Mi • Girochin Girochin no Mi • Giten Giten no Mi • Gokuin Gokuin no Mi • Goldfreed/Seigyo Seigyo no Mi • Grow Grow no Mi • Gumo Gumo no Mi • Guri Guri no Mi • Gurisu Gurisu no Mi • Guru Guru no Mi • Gurō Gurō no Mi • Guujin Guujin no Mi • Gyagu Gyagu no Mi • Gyaku Gyaku no Mi • Gyu Gyu no Mi • Gyuto Gyuto no Mi • Hada Hada no Mi • Hadaka Hadaka no Mi • Hage Hage no Mi • Hahen Hahen no Mi • Hakkyou Hakkyou no Mi • Hakuri Hakuri no Mi • Hame Hame no Mi • Hamon Hamon no Mi • Hane Hane no Mi • Hanpatsu Hanpatsu no Mi • Hansu Hansu no Mi • Hara Hara no Mi • Hari Hari no Mi • Harou Harou no Mi • Haruoin Haruoin no Mi • Hazumi Hazumi no Mi • Hebereke Hebereke no Mi • Hebu Hebu no Mi • Heddo Heddo No Mi • Hedo Hedo no Mi • Heiko Heiko no Mi • Henko Henko no Mi • Henshi Henshi no Mi • Henshin Henshin no Mi • Hentai Hentai no Mi • Hentsuu Hentsuu no Mi • Hiba Hiba no Mi • Hibiki Hibiki no Mi • Hiku Hiku no Mi • Hiraku Hiraku no Mi • Hisu Hisu no Mi • Hon Hon no Mi • Hone Hone no Mi • Honsho Honsho no Mi • Horu Horu no Mi • Hotai Hotai no Mi • Houki Houki no Mi • Houmon Houmon no Mi • Houritsu Houritsu no Mi • Hyo Hyo no Mi • Ibi Ibi no Mi • Ichiban Ichiban no Mi • Iji Iji no Mi • Ikari Ikari no Mi • Ikioi Ikioi no Mi • Inferuno Inferuno no Mi • Inku Inku no Mi • Inyo Inyo no Mi • Irege Irege no Mi • Iro Iro no Mi • Iru Iru no Mi • Ishi Ishi no Mi • Ishoku Ishoku no Mi • Ishu Ishu no Mi • Itai Itai no Mi • Itami Itami no Mi • Ito Ito no Mi • Jaku Jaku no Mi • Jala Jala no Mi • Janpu Janpu no Mi • Jigen Jigen no Mi • Jigoku Jigoku no Mi • Jingen Jingen no Mi • Jinmon Jinmon no Mi • Jinsei Jinsei no Mi • Jiten Jiten no Mi • Joker/Yume Yume no Mi • Jori Jori no Mi • Josei Josei no Mi • Joumae Joumae no Mi • Juhi Juhi no Mi • Juuni Juuni no Mi • Juzo Juzo no Mi • Jūtan Jūtan no Mi • Kaada Kaada no Mi • Kabe Kabe no Mi • Kabu Kabu no Mi • Kagenui Kagenui no Mi • Kai Kai no Mi • Kaichū Kaichū no Mi • Kaigara Kaigara no Mi • Kaiki Kaiki no Mi • Kaimen Kaimen no Mi • Kairo Kairo no Mi • Kaisei Kaisei no Mi • Kakka Kakka no Mi • Kaku Kaku no Mi • Kakumau Kakumau no Mi • Kamen Kamen no Mi • Kami Kami no Mi, Model: Chuck Norris • Kamoji Kamoji no Mi • Kanji Kanji no Mi • Kanken Kanken no Mi • Kanon Kanon no Mi, Model: Doflamingo • Kanrui Kanrui no Mi • Kansou Kansou no Mi • Kara Kara no Mi • Karai Karai no Mi • Karori Karori no Mi • Karu Karu no Mi • Karushiumu Karushiumu no Mi • Kasa Kasa no Mi • Kashaku Kashaku no Mi • Kata Kata no Mi • Katto Katto no Mi • Kawa Kawa no Mi • Kawaii Kawaii no Mi • Kawaru Kawaru no Mi • Kayaku Kayaku No Mi • Kaze Kaze no Mi • Keisha Keisha no Mi • Kemi Kemi no Mi • Ken Ken no Mi • Kesshou Kesshou no Mi • Ketsu Ketsu no Mi • Kettei Kettei no Mi • Ki Ki no Mi • Kiba Kiba no Mi • Kieru Kieru no Mi • Kiiin Kiiin no Mi • Kikai Kikai no Mi • Kikan Kikan no Mi • Kiki Kiki no Mi • Kiko Kiko no Mi • Kimu Kimu no Mi • Kimyona Kimyona no Mi • Kina Kina no Mi • Kinko Kinko no Mi • Kioku Kioku no Mi • Kirei Kirei no Mi • Kiru Kiru no Mi • Kisei Kisei no Mi • Kiseru Kiseru no Mi • Kisu Kisu no Mi • Kitai Kitai no Mi • Kitei Kitei no Mi • Koda Koda no Mi • Koe Koe no Mi • Koete Koete no Mi • Koin Koin no Mi • Koju Koju no Mi • Kokami Kokami no Mi • Kokkei Kokkei no Mi • Kokudo Kokudo no Mi • Konki Konki no Mi • Kori Kori no Mi • Koro Koro no Mi • Koroni Koroni no Mi • Koso Koso no Mi • Koto Koto no Mi • Kotsuzui Kotsuzui no Mi • Kouryou Kouryou no Mi • Kubomi Kubomi no Mi • Kuda Kuda no Mi • Kujo Kujo no Mi • Kuka Kuka no Mi • Kukku Kukku no Mi • Kurasi Kurasi no Mi • Kurasshu Kurasshu no Mi • Kuro Kuro no Mi • Kurohi Kurohi no Mi • Kurono Kurono no Mi • Kurōn Kurōn no Mi • Kyofu Kyofu no Mi • Kyoushin Kyoushin no Mi • Kyuugi Kyuugi no Mi • Loki Loki no Mi • Macchi Macchi no Mi • Maga Maga no Mi • Magata Magata no Mi • Mahō Mahō no Mi • Maki Maki no Mi • Mana Mana no Mi • Manga Manga no Mi • Mari Mari no Mi • Marubori Marubori no Mi • Mashu Mashu no Mi • Masu Masu no Mi • Masuku Masuku no Mi • Mata Mata no Mi • Matsu Matsu no Mi • Mazui Mazui no Mi • Mecha Mecha no Mi • Meijiru Meijiru no Mi • Meno Meno no Mi • Meshi Meshi no Mi • Micro Micro no Mi • Minion Minion no Mi, Model: Goblin • Minion Minion no Mi, Model: Okama • Minion Minion no Mi, Model: Tengu • Mira Mira no Mi • Misuto Misuto no Mi • Mita Mita no Mi • Modor Modor no Mi • Moeru Moeru no Mi • Moko Moko no Mi • Mondai Mondai no Mi • Moufu Moufu no Mi • Muku Muku no Mi • Mune Mune no Mi • Mura Mura no Mi • Musha Musha no Mi • Mīmu Mīmu no Mi • Nabe Nabe no Mi • Nagi Nagi no Mi • Naiha Naiha no Mi • Naku Naku no Mi • Nama Nama no Mi • Namba Namba no Mi • Nandemo Nandemo no Mi • Nanten Nanten no Mi • Nari Nari no Mi • Nawa Nawa no Mi • Nazo Nazo no Mi • Nebai Nebai no Mi • Neji Neji no Mi • Nen Nen no Mi • Neneki Neneki no Mi • Netsu Netsu no Mi • Nibun Nibun no Mi • Niji Niji no Mi • Niju Niju no Mi, Model: Heart • Ningyou Ningyou no Mi • Nioi Nioi no Mi • Nirvana Nirvana no Mi • Noroi Noroi no Mi • Noukou Noukou no Mi • Nui Nui no Mi • Nuu Nuu no Mi • Obake Obake no Mi • Oboe Oboe no Mi • Oidasu Oidasu no Mi • Oishii Oishiii no Mi • Omamori Omamori no Mi • Omo Omo no Mi • Omocha Omocha no Mi • Omosa Omosa no Mi • Ondo Ondo no Mi • Ongaku Ongaku no Mi • Onjun Onjun no Mi • Ora Ora no Mi • Oru Oru no Mi • Oshi Oshi no Mi • Pai Pai no Mi • Pin Pin no Mi • Pota Pota no Mi • Pozu Pozu no Mi • Psi Psi no Mi • Puni Puni no Mi • Puro Puro no Mi • Purē Purē no Mi • Qwan Qwan no Mi • Rafu Rafu no Mi • Rain Rain no Mi • Rakuin Rakuin no Mi • Ran Ran no Mi • Reibei Reibei no Mi • Reikei Reikei no Mi • Renge Renge no Mi • Rensa Rensa no Mi • Resu Resu no Mi • Rijekuto Rijekuto No Mi • Rikugun Rikugun no Mi • Rimo Rimo no Mi • Risa Risa no Mi • Robo Robo no Mi • Rojiumu Rojiumu no mi • Roketto Roketto no Mi • Rokku Rokku no Mi • Ronbun Ronbun no Mi • Rotto Rotto no Mi • Rouka Rouka no Mi • Roze Roze no Mi • Ruru Ruru No Mi • Ruun Ruun no Mi • Ryouchi Ryouchi no Mi • Ryusei Ryusei no Mi • Ryuu Ryuu no Mi • Sacchi Sacchi no Mi • Saimin Saimin no Mi • Saizu Saizu No Mi • Sake Sake no Mi • Saku Saku no Mi • Samo Samo no Mi • Samui Samui no Mi • Sanjaku Sanjaku no Mi • Sanso Sanso no Mi • Saru Saru no Mi • Sasa Sasa no Mi • Sasshou Sasshou no Mi • Sawa Sawa no Mi • Sebu Sebu no Mi • Seigen Seigen no Mi • Seimei Seimei no Mi • Sekai Sekai no Mi • Seken Seken no Mi • Seko Seko no Mi • Seme Seme no Mi • Sen Sen no Mi • Senjuugan Senjuugan no Mi • Senkou Senkou no Mi • Senna Senna no Mi • Sennou Sennou no Mi • Senro Senro no Mi • Senzei Senzei no Mi • Senzo Senzo no Mi • Shaffuru Shaffuru no Mi • Shareedo Shareedo no Mi • Sheru Sheru no Mi • Sheru Sheru no Mi, Model: Dials • Shifuto Shifuto no Mi • Shiki Shiki no Mi • Shin Shin no Mi • Shindo Shindo no Mi • Shini Shini no Mi • Shinjitsu Shinjitsu no Mi • Shinkei Shinkei no Mi • Shinteki Shinteki no Mi • Shiro Shiro no Mi • Shirudo Shirudo no Mi • Shiryoku Shiryoku no Mi • Shiryou Shiryou no Mi • Shokki Shokki no Mi • Shokubun Shokubun no Mi • Shokyo Shokyo no Mi • Shoujun Shoujun no Mi • Shuuchuu Shuuchuu no Mi • Shuumi Shuumi no Mi • Shīdo Shīdo no Mi • Sinju Sinju no Mi • Soku Soku no Mi • Sora Sora no Mi • Sorikata Sorikata no Mi • Soroi Soroi no Mi • Sosen Sosen no Mi • Soukon Soukon no Mi • Sozo Sozo ni Mi • Step Step no Mi • Sugoi Sugoi no Mi • Sugu Sugu no Mi • Suika Suika no Mi • Suimin Suimin no Mi • Suitchi Suitchi no Mi • Suk Suk no Mi • Sumuji Sumuji no Mi • Supairaru Supairaru no Mi • Supia Supia no Mi • Supin Supin no Mi • Supo Supo no Mi • Suu Suu no Mi • Suxi Suxi no Mi • Taberu Taberu no Mi • Taiho Taiho no Mi • Taiyo Taiyo no Mi • Taka Taka no Mi • Taku Taku no Mi • Tanagumo Tanagumo no Mi • Tanzou Tanzou No Mi • Tatchi Tatchi no Mi • Tate Tate no Mi • Teiku Teiku no Mi • Tekna Tekna no Mi • Tekuno Tekuno no Mi • Tengatai Tengatai no Mi • Tenketsu Tenketsu no Mi • Tensai Tensai no Mi • Tera Tera no Mi • Ti Ti No Mi • Todana Todana no Mi • Togu Togu no Mi • Tojita Tojita no Mi • Tokei Tokei no Mi • Toppu Toppu no Mi • Toru Toru no Mi • Tosshin Tosshin no Mi • Towa Towa no Mi • Tsuki Tsuki no Mi • Tsuku Tsuku no Mi • Tsume Tsume no Mi • Tsuru Tsuru no Mi • Tētsu Tētsu no Mi • Uchuu Uchuu no Mi • Uta Uta no Mi • Uzu Uzu no Mi • Wepun Wepun No Mi • Xiba Xiba no Mi • Yajuu Yajuu no Mi • Yaku Yaku no Mi • Yama Yama no Mi • Yamai Yamai no Mi • Yogu Yogu no Mi • Yoku Yoku no Mi • You You no Mi • Youmei Youmei no Mi • Youryou Youryou no Mi • Yumiya Yumiya no Mi • Yusu Yusu no Mi • Yuuguu Yuuguu no Mi • Zai Zai no Mi • Zaigo Zaigo no Mi, Model: Envy • Zaigo Zaigo no Mi, Model: Gluttony • Zaigo Zaigo no Mi, Model: Greed • Zaigo Zaigo no Mi, Model: Lust • Zaigo Zaigo no Mi, Model: Pride • Zaigo Zaigo no Mi, Model: Wrath • Zaigo Zaigo no Mi: Model Sloth • Zenchou Zenchou no Mi • Zettai Zettai no Mi • Zoku Zoku no Mi • Zwei Zwei no Mi • Zūmu Zūmu no mi • Ōtobai Ōtobai no Mi
Zoan
Fanon:
Aus Aus no Mi, Model: Tasmanian Devil • Batto Batto no Mi • Batto Batto no Mi, Model: Fruit Bat • Batto Batto no Mi, Model: Myotis Myotis • Danu Danu no Mi, Model: Brahma • Danu Danu no Mi, Model: Chandra • Danu Danu no Mi, Model: Durga • Danu Danu no Mi, Model: Ganesh • Danu Danu no Mi, Model: Ganga • Danu Danu no Mi, Model: Garuda • Danu Danu no Mi, Model: Great Mother Kāli • Danu Danu no Mi, Model: Hanuman • Danu Danu no Mi, Model: Krishna • Danu Danu no Mi, Model: Lakshmi • Danu Danu no Mi, Model: Mahishasura • Danu Danu no Mi, Model: Narasimha • Danu Danu no Mi, Model: Rama • Danu Danu no Mi, Model: Ravana • Danu Danu no Mi, Model: Surya • Danu Danu no Mi, Model: Tridevi • Danu Danu no Mi, Model: Trimurti • Danu Danu no Mi, Model: Varaha • Danu Danu no Mi, Model: Vishnu • Dino Dino no Mi, Model: Ankylosaurus • Dino Dino no Mi, Model: Archaeopteryx • Dino Dino no Mi, Model: Kentrosaurus • Dino Dino no Mi, Model: Pterodactyl • Dino Dino no Mi, Model: Quetzalcoatlus • Dino Dino no Mi, Model: Spinosaurus • Dino Dino no Mi, Model: Triceratops • Dino Dino no Mi, Model: Tyrannosaurus Rex • Dino Dino no Mi, Model: Utahraptor • Dino Dino no Mi, Model: Velociraptor • Eki Eki no Mi, Model: Aran rock lizard • Eki Eki no Mi, Model: Armadillo • Eki Eki no Mi, Model: Chameleon • Eki Eki no Mi, Model: Gecko • Eki Eki no Mi, Model: Iguana • Eki Eki no Mi, Model: Komodo Dragon • Eki Eki no Mi, Model: Montseny brook newt • Eki Eki no Mi, Model: Salamander (Legendary) • Fugu Fugu no Mi • Futagoza Futagoza no Mi • Gama Gama no Mi, Model: Ferreret • Gama Gama no Mi, Model: Toad • Guma Guma no Mi • Gumo Gumo no Mi • Gāgoiru Gāgoiru no Mi • Hachi Hachi no Mi • Hamusuta Hamusuta no Mi, Model: Womble • Hebi Hebi no Mi, Model: Basilisk • Hebi Hebi no Mi, Model: Black Mamba • Hebi Hebi no Mi, Model: Glycon • Hebi Hebi no Mi, Model: Hornsman • Hebi Hebi no Mi, Model: Inland Taipan • Hebi Hebi no Mi, Model: Nāga   Hebi Hebi no Mi, Model: Salamander • Hebi Hebi no Mi, Model: Water Moccasin • Hebi Hebi no Mi, Model; Hebikami • Hebi Hebi no Mi,Model: Yamata No Orochi • Hebi Hebi no Mi: Cobra • Heka Heka no Mi • Hidora Hidora no Mi • Hippalectryon Hippalectryon no Mi • Hiro Hiro no Mi • Hit Hito no Mi Model: Machai • Hito Hito No Mi Model: Yuki Onna • Hito Hito no Mi Model: Boogeyman • Hito Hito no Mi, Model: Aisutaitan • Hito Hito no Mi, Model: Aka Manto • Hito Hito no Mi, Model: Angel • Hito Hito no Mi, Model: Asura • Hito Hito no Mi, Model: Cyclops • Hito Hito no Mi, Model: Daiakuma • Hito Hito no Mi, Model: Daisei • Hito Hito no Mi, Model: Dark Elf • Hito Hito no Mi, Model: Death • Hito Hito no Mi, Model: Demon • Hito Hito no Mi, Model: Djinn • Hito Hito no Mi, Model: Dryad • Hito Hito no Mi, Model: Enyo • Hito Hito no Mi, Model: Fairy • Hito Hito no Mi, Model: Fallen Angel • Hito Hito no Mi, Model: Famine • Hito Hito no Mi, Model: Fudo Myoo • Hito Hito no Mi, Model: Gabriel • Hito Hito no Mi, Model: Ghost • Hito Hito no Mi, Model: Golem • Hito Hito no Mi, Model: Hachiman • Hito Hito no Mi, Model: Kongorikishi • Hito Hito no Mi, Model: Leprechaun • Hito Hito no Mi, Model: Light Elf • Hito Hito no Mi, Model: Lilith • Hito Hito no Mi, Model: Longarm • Hito Hito no Mi, Model: Lucifer • Hito Hito no Mi, Model: Medusa • Hito Hito no Mi, Model: Mummy • Hito Hito no Mi, Model: Nymph • Hito Hito no Mi, Model: Pestilence • Hito Hito no Mi, Model: Rusalka • Hito Hito no Mi, Model: Senju Kannon • Hito Hito no Mi, Model: Shinigami • Hito Hito no Mi, Model: Slender Man • Hito Hito no Mi, Model: Spring Heeled Jack • Hito Hito no Mi, Model: Stickman • Hito Hito no Mi, Model: Succubus • Hito Hito no Mi, Model: Talos • Hito Hito no Mi, Model: Titan • Hito Hito no Mi, Model: Vampire • Hito Hito no Mi, Model: Vanara • Hito Hito no Mi, Model: Veela • Hito Hito no Mi, Model: War • Hito Hito no Mi, Model: Yama • Hito Hito no Mi, Model: Yeti • Hito Hito no Mi, Model: Yokai • Hito Hito no Mi, Model: Zombie • Inu Inu no Mi, Model: Canis Ferox • Inu Inu no Mi Model: Cerberus • Inu Inu no Mi, Model: Dip • Inu Inu no Mi Model: Fox • Inu Inu no Mi Model: Terrier • Inu Inu no Mi, Model: Arctic Fox • Inu Inu no Mi, Model: Bulldog • Inu Inu no Mi, Model: Chupacabra • Inu Inu no Mi, Model: Coyote • Inu Inu no Mi, Model: Fenrir • Inu Inu no Mi, Model: Hellhound • Inu Inu no Mi, Model: Hyena • Inu Inu no Mi, Model: Inugami • Inu Inu no Mi, Model: Kyūbi no Kitsune • Inu Inu no Mi, Model: Orthrus • Inu Inu no Mi, Model: Pesanta • Inu Inu no Mi, Model: Rottweiler • Inu Inu no Mi, Model: Werewolf • Itachi Itachi no Mi • Kaki Kaki no Mi • Kame Kame no Mi, Model: Tortoise • Kami Kami no Mi, Model: Chuck Norris • Kami Kami no Mi, Model: Gir • Kana Kana no Mi • Kani Kani no Mi, Model: King Crab • Kanon Kanon no Mi, Model: Doflamingo • Kin Kin no Mi • Komori Komori no Mi • Kujira Kujira no Mi, Model: Blue Whale • Kujira Kujira no Mi, Model: Fail Whale • Kuma Kuma no Mi, Model: Black Bear • Kuma Kuma no Mi, Model: Brown Bear • Kuma Kuma no Mi, Model: Koala • Kuma Kuma no Mi, Model: Panda • Kuma Kuma no Mi, Model: Polar Bear • Kuto Kuto no Mi • Kyojin Kyojin no Mi • Marsu Marsu no Mi, Model: Kangaroo • Mushi Mushi no Mi, Model: Ant • Mushi Mushi no Mi, Model: Black Widow • Mushi Mushi no Mi, Model: Brown Recluse • Mushi Mushi no Mi, Model: Death's Head • Mushi Mushi no Mi, Model: Grand Moth • Mushi Mushi no Mi, Model: Honey Bee • Mushi Mushi no Mi, Model: Hopper • Mushi Mushi no Mi, Model: Kabuto • Mushi Mushi no Mi, Model: Paleozoic • Mushi Mushi no Mi, Model: Praying Mantis • Mushi Mushi no Mi, Model: Queen Butterfly • Mushi Mushi no Mi, Model: Scorpion • Mushi Mushi no Mi, Model: Stag Beetle • Mushi Mushi no Mi, Model: Voodoo Wasp • Mushi Mushi no Mi, Model: Wyrm • Mushi Mushi no mi, Model: Centipede • Neko Neko no Mi model: Egyptian Mau • Neko Neko no Mi, Model: Bayun • Neko Neko no Mi, Model: Black Panther • Neko Neko no Mi, Model: Byakko • Neko Neko no Mi, Model: Jaguar • Neko Neko no Mi, Model: Korat • Neko Neko no Mi, Model: Liger • Neko Neko no Mi, Model: Lion • Neko Neko no Mi, Model: Lynx • Neko Neko no Mi, Model: Moggy • Neko Neko no Mi, Model: Nekomata • Neko Neko no Mi, Model: Nemean Lion • Neko Neko no Mi, Model: Ocelot • Neko Neko no Mi, Model: Sabretooth Tiger • Neko Neko no Mi, Model: Tiger • Neko Neko no Mi, Model: Wildcat • Nezu Nezu no Mi, Model: Echidna • Nezu Nezu no Mi, Model: Hedgehog • Ningyo Ningyo no Mi • Nyan Nyan no Mi • Ohitsuji Ohitsuji no Mi • Oni Oni no Mi, Model: Behemoth • Oni Oni no Mi, Model: Daitengu • Oni Oni no Mi, Model: Demon Boar • Oni Oni no Mi, Model: Demon King • Oni Oni no Mi, Model: Dullahan • Oni Oni no Mi, Model: Erinys • Oni Oni no Mi, Model: Eurynomus • Oni Oni no Mi, Model: Fire Demon • Oni Oni no Mi, Model: Ogre • Oni Oni no Mi, Model: Rakshasa • Oni Oni no Mi, Model: Sea Devil • Oni Oni no Mi, Model: Shadow Demon • Oni Oni no Mi, Model: Spirit of Vengeance • Orumekko Orumekko no Mi • Rakko Rakko no Mi • Rakuun Rakuun no Mi, Model: Ring-tailed Cat • Reopon Reopon No Mi • Risu Risu no Mi, Model: Foamy • Sagi Sagi no Mi • Sakana Sakana no Mi, Model: Cthulhu • Sakana Sakana no Mi, Model: Kraken • Sakana Sakana no Mi, Model: Shark • Sakana Sakana no mi Model: Megalodon • Saru Saru no Mi, Model: Baboon • Saru Saru no Mi, Model: Gorilla • Saru Saru no Mi, Model: Hihi • Seirei Seirei no Mi, Model: Baku • Seirei Seirei no Mi, Model: Samedi • Seirei Seirei no Mi, Model: Sylph • Shachi Shachi no Mi • Shinka Shinka no Mi • Shika Shika no Mi, Model: Black Elk • Shiroari Shiroari no Mi • Shishi Shishi no Mi, Model: Banshee • Shishi Shishi no Mi, Model: Chimera • Shishi Shishi no Mi, Model: Nian • Shishi Shishi no Mi, Model: Okami • Sufin Sufin no Mi, Model: Andro • Tako Tako no Mi, Model: Mimic Octopus • Tankourui Tankourui no Mi, Model: Platypus • Tatsu Tatsu No Mi, Model: The Níðhöggr • Tatsu Tatsu no Mi • Tatsu Tatsu no Mi, Model: Apocalyptic Dragon • Tatsu Tatsu no Mi, Model: Azure Dragon • Tatsu Tatsu no Mi, Model: Colchian Dragon • Tatsu Tatsu no Mi, Model: Dark Dragon • Tatsu Tatsu no Mi, Model: Earthland Dragon • Tatsu Tatsu no Mi, Model: Fire Dragon • Tatsu Tatsu no Mi, Model: Freshwater Dragon • Tatsu Tatsu no Mi, Model: Frost Dragon • Tatsu Tatsu no Mi, Model: Golden Dragon • Tatsu Tatsu no Mi, Model: Holy Dragon • Tatsu Tatsu no Mi, Model: Ice Dragon • Tatsu Tatsu no Mi, Model: Infinity Dragon • Tatsu Tatsu no Mi, Model: Kirin • Tatsu Tatsu no Mi, Model: Mother Night • Tatsu Tatsu no Mi, Model: Night King • Tatsu Tatsu no Mi, Model: Ryujin • Tatsu Tatsu no Mi, Model: Seiryu • Tatsu Tatsu no Mi, Model: Shikyo Ryuu • Tatsu Tatsu no Mi, Model: Skeletal Dragon • Tatsu Tatsu no Mi, Model: Space Dragon • Tatsu Tatsu no Mi, Model: Star Dragon • Tatsu Tatsu no Mi, Model: Titan Dragon • Tatsu Tatsu no Mi, Model: Twilight Dragon • Tatsu Tatsu no Mi, Model: Void Dragon • Tatsu Tatsu no Mi, Model: Wyvern • Tori Tori no Mi, Model: Achiyalabopa • Tori Tori no Mi, Model: Barn Owl • Tori Tori no Mi, Model: Carrion Crow • Tori Tori no Mi, Model: Chicken • Tori Tori no Mi, Model: Cockatrice • Tori Tori no Mi, Model: Crane • Tori Tori no Mi, Model: Crow • Tori Tori no Mi, Model: Dodo • Tori Tori no Mi, Model: Duck • Tori Tori no Mi, Model: Eagle-Owl • Tori Tori no Mi, Model: Emu • Tori Tori no Mi, Model: Gryffon • Tori Tori no Mi, Model: Hippogriff • Tori Tori no Mi, Model: Hummingbird • Tori Tori no Mi, Model: Lyrebird • Tori Tori no Mi, Model: Myna • Tori Tori no Mi, Model: Osprey • Tori Tori no Mi, Model: Ostrich • Tori Tori no Mi, Model: Parrot • Tori Tori no Mi, Model: Peacock • Tori Tori no Mi, Model: Penguin • Tori Tori no Mi, Model: Roc • Tori Tori no Mi, Model: Southern White-faced Owl • Tori Tori no Mi, Model: Thunderbird • Tori Tori no Mi, Model: Turkey • Tori Tori no Mi, Model: Vermilion Bird • Tori Tori no Mi, Model: White Dove • Tori Tori no Mi, Model: Woodpecker • Troaini Troaini No Mi • Uki Uki no Mi, Model: Chimpanzee no Mi • Uma Uma no Mi, Model: Chìtù Mǎ • Uma Uma no Mi, Model: Mustang • Uma Uma no Mi, Model: Pegasus • Uma Uma no Mi, Model: Unicorn • Usa Usa no Mi, Model: Lapahn • Ushi Ushi no Mi, Model: Antelope • Ushi Ushi no Mi, Model: Kelpie • Ushi Ushi no Mi, Model: Kudu • Ushi Ushi no Mi, Model: Ox • Ushi Ushi no Mi, Model: Toro Bravo • Ushi Ushi no Mi, Model: Water Buffalo • Viru Viru no Mi • Wani Wani no Mi • Wani Wani no Mi, Model: Bananadile • Yagi Yagi no Mi • Yajuu Yajuu no Mi, Model: Raijuu • Yajuu Yajuu no Mi, Model: Wendigo • Yajuu Yajuu no Mi, Model: Ziz • Zou Zou no Mi, Model: Elephas Maximus • Zou Zou no Mi, Model: Mammoth • Ōmono Ōmono no Mi, Model: Haiperion • Ōmono Ōmono no Mi, Model: Taifū