R.I.P. Those who have met me were RIPPED INTO PIECES by Moi! Thanks for celebrating with me the last days of your pitiful life. WAHAHAHAHAHA!

"I don't fight with honor. "Points to corpse." But he did.
Sinbad
Real Name: Kratos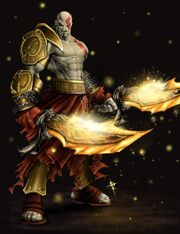 Age: 35
Gender: ♂
Species: Human
Blood type: S
Birthdate: 4/1
Height: 7 ft
Weight: 260 lb
Island of Origin:
Occupation: Pirate
Epithet: God of War
Crew:
Position: First Mate
Family:
Current Bounty:

Dream: To destroy the world
Page created by:

FoolishMortalFOOL
Introduction
Edit
Sinbad (Real Name: Kratos) is a powerful pirate who will destroy anything that stands in his way of his revenge on the world.
Appearance
Edit
Personality
Edit
Abilities and Powers
Edit
Swordsmanship
Edit
Hand to Hand Combat
Edit
Physical Strength
Edit
Endurance
Edit
Blade of Hades
Nemean Lions
Kenbunshoku Haki: Color of Observation

Busōshoku Haki: Color of Armaments

Haōshoku Haki: Color of the Conquering King
Relationships
Edit
Redbeard Pirates
Allies/ Friends
Edit
Major Battles
Edit
Related Articles
Edit
External Links
Edit
Ad blocker interference detected!
Wikia is a free-to-use site that makes money from advertising. We have a modified experience for viewers using ad blockers

Wikia is not accessible if you've made further modifications. Remove the custom ad blocker rule(s) and the page will load as expected.