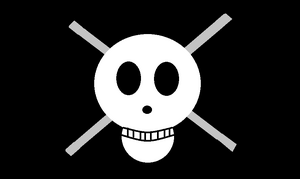 The Steel Rod Pirates is a pirate crew originated from North Blue and lead by
Jackson Gunn
.
Professions and Capabilities
Edit
Name
Profession
Capabilities
Epithet
Jackson Gunn
Oliver Saga

First Mate
Historian
Swordsman

Master Swordsman
Extremely knowlegeable

Sebastian Harper
Kate Lacrima

Axe Wielder
Expert Doctor

Burton Alexander

Rokushiki Master
Master of Martial Arts

Mia Ceara
Randall Claymore

Sharpshooter
Gunner
Craftsman

Expert Marksman
Master Craftsman

George Claymore

Fisticuffs Specialist
Master Carpenter

Orpheus Marauder

Master Musician
Fencing Expert

Quinn Robinson
Robert Bors

Swordsman
Pharmacist
Extreme Intelligence

Percival
The Iliad is a galleon with a horse as a figurehead.
Jackson Gunn- To become Pirate King
Oliver Saga- To learn the origins of the world, To compile a book of the world's myths and legends
Sebastian Harper- To meet Monkey D. Dragon and learn the objective of the Revolutionary Army
Kate Lacrima- To find the best sake in the world, To create medicine that can cure any ailment
Burton Alexander- To become the world's greatest martial artist
Mia Ceara- To compile a cook book of the world's delicacies
Randall Claymore- To gain self confidence in his abilities
George Claymore- To find the finest cigars in the world, To become a great warrior
Orpheus Marauder- To compose the world's greatest piece of music
Quinn Robinson- To become a great pirate
Robert Bors- To catalog the animals and plants of the world
Allies/Supporters
Edit
B. T. Wellington and the Crook Pirates
Ad blocker interference detected!
Wikia is a free-to-use site that makes money from advertising. We have a modified experience for viewers using ad blockers

Wikia is not accessible if you've made further modifications. Remove the custom ad blocker rule(s) and the page will load as expected.